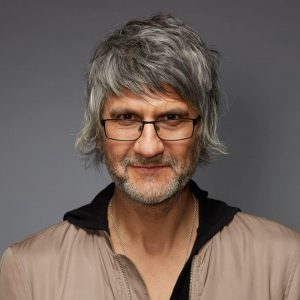 Eddy Temple-Morris, though first and foremost a member of Berlin-based band Losers and a prolific radio DJ, is a vocal figure in promoting awareness for mental health. We sat down to chat with Eddy about charity work, social taboos, personal challenges and advice on how to live a healthy, happy life despite inner struggles.
Being involved with CALM (Campaign Against Living Miserably), Temple-Morris has been focused on highlighting one of the most overlooked social taboos: male suicide. "I became involved with CALM eleven years ago, when Charlie Haddon from Ou Est le Swimming Pool heartbreakingly took his own life. I was very friendly with that band. The remaining members, especially Joe Hutchinson who has become one of my nearest and dearest bosom buddies, asked me to preside over Charlie's wake, which was their non-cancelled album launch show. Joe very nobly turned it into a fundraiser for a mental health charity. He wasn't aware of CALM at that time, so we both became aware of it that night because Jane Powell, the amazing woman who started that charity was there, and she collared Joe and myself and told me, I remember – I will remember to my dying day how she broke it to me – that suicide was the biggest killer of men under 50 in this country. Now it is 45. At that time, I think it was 13 men a day were killing themselves – now it is 12. This is just amazing because these statistics always get worse under a Tory government. Joe asked me to link all of the bands together. I say all of the bands because obviously Ou Est le Swimming Pool had lost their singer, so they couldn't do a traditional album launch, so they beautifully and very poetically asked their friends, The Horrors; The Vaccines; The Kooks; to each cover a song. They performed the album in order. I just linked it all together and went on a bit of a rant about mental health to all of the people in that venue. I urged them all to go home that night and to talk to whoever they were with about something they never talk about. Charlie had died through lack of communication. That's how it always happens. You're depressed; you fall into a hole; you don't communicate; you do the unthinkable. No one kills themselves while they're talking to someone. Communication is so important. That's how I got involved with CALM."
Charities have always been desperately in want of funding – not to mention mental health charities, a relatively new cause as it has risen as an issue into the public consciousness. "At that time Jane said she couldn't even afford to put a second-class stamp on an envelope to send a flyer to Liverpool Police. They were tearing their hair out, and saying "What do we do? There are so many young kids killing themselves in this city!" They were really exasperated. She appealed to me, and said "Look, I need people like you to help me. CALM is only me – and I haven't even got an office. I can't afford to do anything. I'm going to have to stop doing it." She was earning something catastrophic like six grand a year. Nobody wanted to engage with it. It was still a real taboo. I mean, everyone is talking about mental health now – we're talking about it right now. But eleven years ago, it was a really uncomfortable thing to bring up, particularly when it came to suicide. So, I led from the front, and from that point, helped to connect her with friendly musicians and DJs who helped us, from Pete Dalton, Mister Jam, Professor Green, Example, Scroobius Pip, of course: just lovely supportive people who are very mental health savvy. Now CALM has an office. They have a board – two boards! Professor Green became our patron. We're still horribly underfunded, but we can't afford to put people in bibs outside tube stations and persuade passers-by to give us money. We can't afford to do that thing you see every day. We're still in a much, much better shape than when I found them 11 years ago. I'm so proud of what everyone has done to help. And here we are! We're now talking about mental health. The ground is different."
Though the importance of mental health services is continually emphasised and promoted, there is still a lot to be desired in the way they are managed. What would Eddy Temple-Morris consider a bright future for these services? "The answer to that is really simple: it's funding. Do you remember David Cameron saying – he said a lot of things but didn't deliver, but welcome to the Tories – that spending on mental health was really important and the Tory party were committed to increasing spending on it? It was really, really important to do that. Those were the words, yet the actual actions were to cut it by 40% – I think even more, now. These days, everyone is stabbing each other. They shut down youth centres; they shut down arts projects; they take away mental health funding and now they're wondering why there is a huge wave of murderous behaviour. It's really obvious what's going on here. The root thing is funding to get people off the streets and into youth centres and give them some positivity. We have an uncaring, sociopathic Conservative government that just doesn't give a shit about anything except feathering their own nests. I think what we're going to have to do is do it ourselves. We'll have to act on a local level. Talk to that girl or boy that's homeless who you see on your way to work; text or call that mate who's struggling and ask them how they're doing. If people do that, it removes the need for the government to take care of people. First and foremost, we need to get the government reengaged with the fact that their cuts to arts and mental health services has had a catastrophic effect on our society. This wave of violence that we're seeing is a direct result of that. We just need to keep encouraging people to empower themselves, to help, to want to help, to help their friends and people in their own neighbourhood."
What has Eddy had to learn to contend with in terms of his own mental health and personal struggles? How has he managed to create a prosperous career for himself in spite of them? "Well, I have a painful history of toxic relationships with people who are really bad for me. It's a classic situation of being attracted to someone who is terrible for you. Having relationships with these sorts of people is like playing Russian roulette, they can really take you down. I ended up suicidal in 2013. I was in the worst shape of my life. I was unrecognisable to my fellow band members, my friends and family. Everyone close to me had to take a backseat for that year. I ended up not sleeping for more than eight to twelve hours a week for most of that year. After you've spent four days a week – there's no drugs involved here, just pure anxiety – walls start moving and you start hallucinating. You think you're going mad. As the analyst I saw for six months at that time pointed out, it was obvious what was going on there: my body was sending me a signal telling me that I was in danger. A caveman doesn't sleep when there's a sabre-tooth tiger in the neighbourhood. So to mitigate the awful lack of sleep I learned how to meditate. I learned how to make my life sustainable with meditation rather than medication, which meant that I could survive on this tiny amount of sleep. I practised a type of meditation that was very modern and pragmatic. It's Vedic, which is Indian, and mantric, in that you have a mantra that you repeat it for twenty minutes a day; twice a day in your head to just switch everything off and recharge. It is scientifically tried and tested that this kind of routine can give you the equivalent of about three hours' worth of deep sleep if you do it. Meditation was one great coping mechanism. The other was therapy. I had CBT therapy to stop me from killing myself, and old fashioned analysis to better understand what I'd gone through and how to stop it happening again.
"The way I've coped going forward is by combining the meditation with something called The Wim Hof method. You might have heard about Wim: he climbed Everest in a pair of shorts and trainers, and he holds 26 Guinness World Records involving cold and endurance. It's not a new thing; it's a yogic breathing technique that goes back thousands of years. Ever since I'd discovered it, I've been having cold showers every day.
I've looked into the robust scientific work behind this and I know that every day I'm giving myself a huge spike of dopamine and epinephrine. It triggers your caveman response to infections. He basically found a shortcut for years' worth of therapy. You would have to have years of therapy until you could trigger dopamine in yourself: the happy chemical. If you're triggering it naturally, it means you're happy. It's almost like forced happiness. Hyperventilating is like having a line of Keith Richard's cocaine – but you don't have the downfall that every vigorous cocaine-user has, where you talk bollocks and turn into an arsehole. You can have your cake and eat it, with this. It's a coping mechanism that I would recommend to almost anyone."
What advice would Eddy give to someone going through a similarly devastating, or mentally challenging time? "You go through it – it's a transitory thing. Suicide is a permanent solution to a temporary problem. You are going to get through it, and you will get to the other side and be one of those brilliant people who has survived it. Vines that have struggled make better wine: ask any French vine grower, and in my experience, people are the same. People that struggle are more interesting, wiser, and often stronger. Scar tissue is stronger than normal tissue. To anyone who is going through something: I know it sounds simple, but you are going to get through it and you will arrive at the other side with all these feathers in your cap. I know you can't see it now – but that is an absolute guarantee. My recently departed dad (I agreed with very few things he said), used to say, "You meet a better type of person in the smoking section". I know what he means. If you take that as an analogy for mental health, people who have struggled are much more interesting."
Musicians, such as Charlie Haddon, are often in a constant battle with mental issues and a struggle for success. For those working in the music industry, a challenging, fickle place in itself, what advise would Eddy give from both his experience, and the experiences of those around him? "I would just advise communication; I would advise honesty in the way that you address the world, in the way that you address your art. Be true to yourself: don't pretend to be someone else.  I would advise talking: if you're a solo artist, talk to your friends and keep that dialogue open.  Persistence, honesty and communication. If you're getting into music, it's going to be hard – I'm not going to lie. Think about diversifying, as I've done. I'm a musician, first and foremost, but I've diversified into radio and into TV. Broaden your palette and don't be afraid to have lots of different arrows in your quill. But over and above anything, honesty and communication – and you will get there. It's talking. Talking really is the key to all of this. Communication really is the most important thing. It's why I'm alive."
What's next for Eddy Temple-Morris and his careers and interests that are too many to count? "Musically, I just want to help make the best music we've ever made as Losers and to continue our amazing run of being used by some of the best TV programmes that have ever been made: Game of Thrones, The Walking Dead, The Black list – just three of a list of ten or fifteen that I could give you. I just want people to know that Virgin radio is there. It's such a great station, and we're doing such amazing work. People just don't really know that we're there. We only had the funding to do one tiny little ad campaign on buses. I just want to continue the good work at Virgin. The team is expanding. We've got the best music programmer in the world in Christian Smith. We just got Christian O'Connell's old producer from Absolute who's working across the station. It's just a really great place to be. More to the point of mental health, there is one thing I really want to focus on. I have been male-focused for the last eleven years. I will explain how that started: the fact that it is male-focused should be obvious to everyone. We are striving for equality in so many ways: usually, we are trying to give women an equal playing field to men – but the inequality in suicide is the other way. Today, twelve men will kill themselves, whereas only two women will. We clearly need to be more like women. It's obvious why. It's because women talk: women talk more freely about their feelings. Men won't. People seem to think that all men talk about is football and girls. We need to encourage men to be fearless about their feelings. That will drive that number down. That's why I've been male-focused for so long. But we discovered this horrifying fact when we looked into the relationship between suicide and employment."
The job with the highest number of suicides was not the one we thought: it was not musicians, tortured artists, poets or writers – I mean, those are high-risk, but they're not, by a long-shot, the worst affected. The worst effected are building site workers, the guys who are queueing up for work every morning. They are dropping like flies. Another really interesting, alarming, fascinating and heart-breaking statistic we found out that CALM aren't dealing with – because we're a male-focused charity – you and I are 5 times more likely to kill ourselves than our mothers, our sisters or our girlfriends, but in music, that turns almost on its head. A female musician is three times more likely to kill herself towards the beginning of this year. We need to get this fact out. We need to start talking about it. Some really eminent musicians: Micky from La Roux, Catherine from The Anchoress, say that they're not surprised by this. It feels like a hell of a surprise when you say it, but when you consider Instagram culture, self-worth and all of the things that women are dealing with, it makes sense. Women are much more involved with mental health than men. The great mallet that's hitting them is the whole self-worth thing: a patriarchal pressure to be beautiful. This alarmingly narcissistic selfie-culture that we're involved with; that, and the fact that the music industry is so high-pressure and high-stress and so dominated by men. We need to analyse this some more, we need some eminent female musicians to come out and really deal with this. I feel as though I need to galvanise Nadine Shah and all my other female musician friends and do something about this – maybe start a new charity. There's a new charity that I'm just starting to get involved with called My Black Dog. It's very new. Maybe we can all rally around that? I'm having ideas as I'm talking. It sounds like I haven't got a fully-formed idea because I haven't. But I know it's an issue that we need to address, that we need to talk about and get out there. That's my aim. To bring that statistic down. We need to get closer to equality in suicide. I just want equality. I just want as few men as women killing themselves every day. We can't stop everyone from killing themselves – that's unrealistic. But we can drive those numbers down. If we achieved that equality, I would die happy."
If success is measured by giving more than you take, then it is indisputable that Eddy Temple-Morris has found it. He has found it in his career, his wellness and in fighting to raise awareness for matters close to his heart which should be closer to ours. More than that, he is the living testimony of the fact that regardless of how desperate a time may feel, the other side is a very real place of arrival, always within reach – and what a wonderful place it is to be.