Racing legend Guy Smith retired as a factory driver in 2017, after a stellar career spanning 3 decades, including winning the 24 Hours of Le Mans in 2003 and the American Le Mans Series in 2011.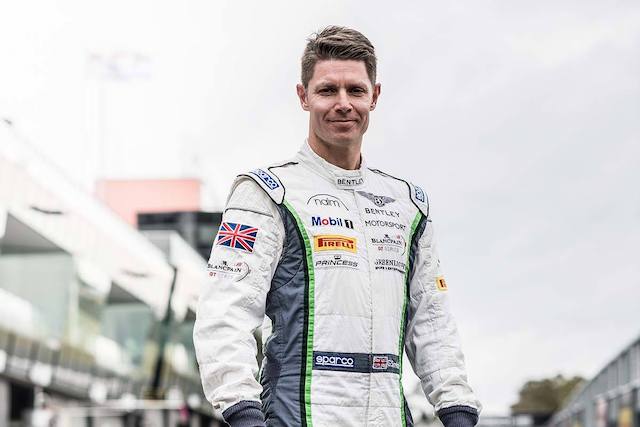 Even though he might no longer be out on the track permanently among the action, that doesn't mean Guy, brother of Wobblin' About and Rockin' Out founder Dom, has left the sport behind completely.
"As I've got older I've learnt more about the business side – when I started out go karting, it was just about going as fast as possible, but now, the further you get into the sport, you realise you're actually a business and the driving is a small part," says Guy of how interlinked the worlds of business and motorsport actually are, with so many skills transferable due to the commercial nature of motorsport in today's world.
"It's about understanding your craft," he explains, and knowing what you need to do to be successful. Motorsport is an incredibly expensive passion, and in order to climb up the rankings, you must have some sponsorship or be a brand ambassador, like Guy. "As a driver, social media is so important, they look at my social media to find my reach, and you're an extension of that brand, something I didn't think I'd be talking about as a racing driver, but it's part of the job now."
He knew he wanted to go into the business branch of the sport and set up his company Greenlight Sports Management in 2020 where he now mentors and supports new young drivers working their way up the ranks, hoping to have the kind of career he had. Guy says there are two key traits when aiming for success as a racing driver: hard work and being humble. "It's about hard work like anything. Whatever you choose to do, you get out what you put in. I've seen so many good drivers with no work ethic. They've been amazing but expected it to fall their way, and not pursued it, not worked hard and not achieved a successful career. But there are others who are not the best but have worked hard and have had a career in motorsport. You can apply it to anything, musicians, or football. Some go off the rails or fall by the wayside. A great work ethic is so important, you've got to have that dedication and love what you do. At the end of the day, if you don't love what you do, you're not gonna be successful.  It's important to be humble and have an appreciation for what you do."
Having taken up karting in 1986, it wasn't an easy ride for Guy to the top, with his first senior win not coming until 1995 as British Formula Renault Champion. That same year, he tested with the Williams Formula One team at Silverstone for the first time. From then on, his career went from strength to strength, winning PPG Rookie of the Year in 1999, with his 24 hours Le Mans victory following just four years later in 2003 for Bentley with co-drivers Tom Kristensen and Rinaldo Capello. Teamwork is something that Guy values very highly both in his professional and personal lives. "Within your team you have mechanics and engineers, working together to get a goal. It's important finding what your skillset is, what you're good at and not good at and trying to get the people in to fill those gaps." He finds that teamwork is one of the many skills he was able to transfer from the world of motorsport to the world of business, particularly as he was a business in himself with all of the sponsorship, social media and brand engagement that is now expected of racing drivers if they want to reach the summit.
Although he would not win Le Mans again, he finished in second place the following year before transferring to the American Le Mans series and Dyson Racing in 2005, where he would race for seven years before winning in 2011 with Dyson Racing alongside co-driver Chris Dyson. He won Road America in 2012, recording the closest ever ALMS race finish, with this seemingly being a very successful racetrack for Guy, after he had recorded the two fastest laps there in 2006.
When asked what success means to him, from both a career and personal point of view, Guy sees it as two very different kettles of fish. "It's really important to differentiate the two," he says. As an athlete, he saw success in very much a solid form, as it was measured by ways of wins, statistics, performances, and trophies. Despite this, he is quick to point out during our chat that some of his best performances did not always show as his best results. In his personal life, Guy is very open with his meaning of success. "We all want to be happy and content. I know a lot of drivers who are successful in sport but unhappy in life. I listen to a lot of podcasts – they say people are searching for fulfilment through sports and adulation for what they do. As I get older, it's not about the short-lived wins, being content and happier in yourself, and living more in the moment. That's what I would class as success."
For someone that has had such a glittering career, there must be some great motivations, such as watching his father who was a successful businessman while he was growing up. "I take a lot of inspiration from music – you get that buzz of endorphins which make you think I want to do this and that. I think having external influences are really important. Music is a big motivator for me." Guy's favourite music genre is rap, but he does admit that whatever his mood is often dictates what he wants to listen to.
Something that has perhaps been in the background of motorsport for many years is mental health awareness. With society now becoming more and more open about talking about people's mental health, Guy says that everyone has their bad days, even himself, and that the level of awareness in motorsport has really improved over the last few years. "Some days it's a great day, other days it's raining outside, you don't want to do anything. I think what's important is knowing you are not alone, everyone has days like that, it's not unusual, it just gets hidden better by others. It's important to have good friends around, people you can talk to. I'm lucky, I've got my wife, we'll talk about stuff if I'm having a bad day. It's so important talking about stuff."
He feels that motorsport can be quite lonely, given that you are always out for yourself. "There are usually two cars per team and it's you against your teammate, you want to beat them so there's that rivalry. It's quite a lonely road, we're left to our own devices."
He admits that the sport has improved its mental health awareness in recent years. "When I first started it was never discussed or even mentioned – but in the last 5/6 years it's become more accepted to talk about it, with more people to talk to. People are a lot more open and more prepared to sharing their feelings and it's not a taboo subject, it's a real-life situation."
There is a danger to motorsport but having a team of qualified mechanics and engineers that you trust is vital, particularly in big races such as Le Mans or Oval. "We're not thinking what's gonna happen if I die? You can't think like that, or you'd never do it. It's about having respect, I think the mechanics put the cars together, they are well put together and safe but freak things do happen. I think you are aware [of the risk] but aren't focused on it too much. Once the helmet is on in the car, that's a great trigger for forgetting everything." Guy has seen some tragedy over the years, losing friends to accidents on the track. He's quick to be clear that racing is not as glamorous as it seems, and that it's all about the work behind the scenes, which makes any victory sweeter.
Now with his company Green Light, Guy mentors up and coming young drivers such as Jess Edgar. Although they don't have an F1 driver on their books just yet, Guy has spotlighted Jess as "a star of the future" and hopes that it could happen in the next few years.
When asked for his top tips for young drivers, Guy has just three: "Don't be cocky…work hard and be humble." Racing can be a tough reality for those that don't make it to the top, but Guy is clear: "If they don't make it but they've given it everything that's all I expect from them."
Words: Sallie Phillips | Interview: Dom Smith
Listen and watch below: